Every once in a while, everybody needs an escape from the confining quarters of their work – whether they work in an office or from home! A retreat is the perfect opportunity for companies to …. But what is there to do? ABCey has curated a list of our top 10 favorite corporate retreat activities fit for everyone!
It's a giant playground for adults! Located in Lands End, this obstacle course built with ropes, ladders, and cables is immersed in a mini forest located in our urban city. The ropes course will challenge you mentally and also get your blood rushing in ways an office may not. So go through the highs and lows (literally!) with your team, and it'll surely bring out your adventurous side.
"Learning through laughter." Nerd Improv strives to create workshops that are meant to help your team get the most out of your retreat. It was designed to help push the boundaries while making a safe environment for everyone to share. For any questions, you can contact them here.
Hosted by 1AM, this workshop is meant to bring out your creative side with street art! Groups are encouraged to create their own street art individually and in groups with stencils and much more. Alongside the art, their team goes through the history of street art that you surely won't forget! The best part? You won't forget your experience anytime soon with the art hanging on your wall!
Escape your office with an escape room! Reason provides your team with high tech team building activities and immersive experiences. Instead of your typical escape room, you can experience this through VR goggles to transport yourself into another reality and much more. In addition to an awesome escape, this retreat will build a stronger and better team!
Get up from your office chair and get on a boat! Your retreat will feature some of the most beautiful views and create some of the best memories. Your sailing experience will be personalized to whatever mood your team needs whether it be relaxing or thrilling! So pack your favorite sea sickness remedy and sail away!
Love food trucks? You'll love this challenge even more! The Food Truck Challenge prompts teams to experience what it's like to have your own and run your own food truck. Judges will base their decision on every aspect from the food to the marketing, so be prepared!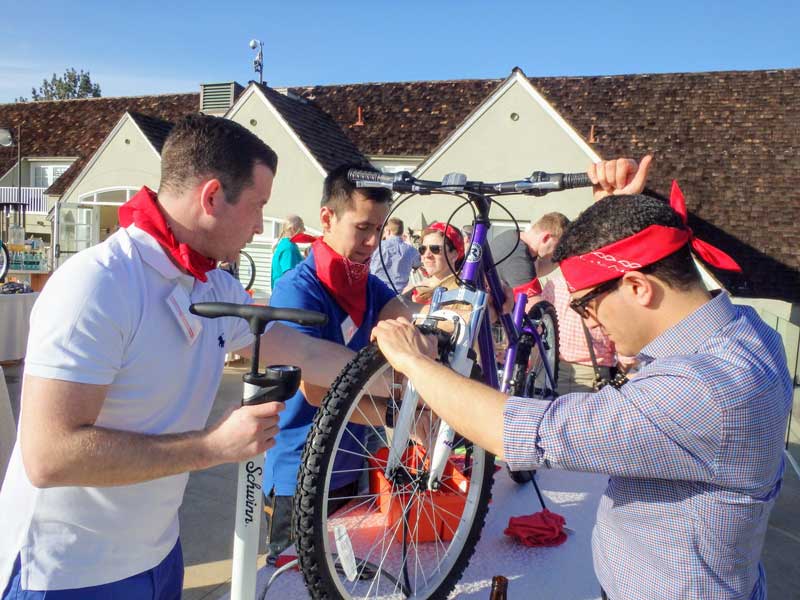 Drop the pens and papers and swap it out with wrenches and gears! This charity event challenges teams to build as many bikes as they can, and all the bikes built are donated to children around the world. It's an amazing cause and your team will build a competitive spirit together for a heartwarming cause as well.
This is great way to unwind after a long week of meetings. After splitting into teams, each group becomes their own winery (a dream come true)! After being briefed on the history of Sangria and competing in a trivia contest, teams have the opportunity to create their own unique blend, too.
Who doesn't love mini golf? Your team can make your own fun with challenging mini golf courses designed to trick the other team. If you're feeling charitable, there's also an option which involves cans of food to be donated as you complete the course. A little competition never hurt anyone, and hopefully you'll leave with a sense of accomplishment!
If you love food and you love San Francisco, we've got one of the most perfect retreat activities for you! This foodie adventure will prompt your teams to explore San Francisco while also trying some of the best foods around the city! You'll be leaving with a full belly and a new love for our hometown!
What are your favorite off-site activities?
These off-site corporate retreat activities can be adjusted to any retreat you have! Are you ready? Which ones did we miss? Let us know in the comments below or on Facebook or Twitter!
---
It's almost Friday! ABCey brings you the Weekend Lineup for the best upcoming events in the Bay Area! There is everything from music and food festivals to a relaxing Father's Day bike ride through the San Francisco Zoo!
Weekend Lineup: San Francisco's World Refugee Day
Friday June 16th | 12-3:30pm | Free Admission | Mission District, 1850 Mission Street, San Francisco, CA
You don't want to miss San Francisco's World Refugee Day! It's fun and it's for a good cause! The days consists of cultural performances, international food, music, speakers, a talent show, a costume show and more to commemorate the bravery and contributions of refugees!
Phono Del Sol Music and Food Festival 
Saturday June 17th | 12-7pm | General Admission $29 | Potrero Del Sol Park (La Raza), 1500 Utah Street, San Francisco, CA
Phono Del Sol is a music & food festival that has an awesome lineup with 10 bands that will be performing all day long! There will also be 10 food trucks with an assortment of different types cuisine as well as a skate park! This festival is an all-age friendly event that will be the highlight of your weekend!
Presidio Kite Festival
Saturday June 17th | 12pm-5pm | Free Admission | Main Parade Ground, 103 Montgomery St, San Francisco, California 94129
Make your dad feel extra special this year and take him to the Presidio Kite Festival! This family-friendly event is the perfect way to celebrate Father's Day Weekend! Get your whole family together and head out to Presidio Park for some fun in the sun!
Raise the Temple!
Saturday June 17th | 2-10pm | General Admission $20-$27 | The Midway, 900 Marin Street, San Francisco, CA 94124
This day filled with music, art, and wellness is a fundraiser for the 2017 Temple at Burning Man! Come and show your support the build of the 18th Incarnation of The Burning Man Temple! All profits go to The Temple Build!
North Beach Festival
Saturday and Sunday June 17th-18th | 10am-6pm | Free Admission | Washington Square Park, North Beach District, San Francisco, CA
Don't miss out on San Francisco's 63rd annual North Beach Festival! There's obviously a reason it has been going on for this long! There will be all sorts of foods, a variety of drinks and amazing live entertainment!
Father's Day Bike About
Sunday June 18th | 8:30am-11:30am | $30 per peddler | San Francisco Zoo, Sloat Blvd & Great Hwy, San Francisco, CA 94132
Bring your family and celebrate Father's Day with an exciting hour-and-a-half long bike ride through the San Francisco Zoo! Everyone will enjoy seeing all of the exotic zoo animals! Make this Father's Day one your family never forgets!
Will you be attending any of these Weekend Lineup events? What other San Francisco events are you excited about this weekend? Let us know in the comments below or on Facebook and  Twitter!
---
Outside Lands 2016 is almost here! In less than a week, you'll be able to experience live events, shows, food and other amazing activities. At ABCey Events, we're looking forward to all the festivities and decided to put together an Outside Lands 2016 Survival Guide to ensure that you'd have an easier time. Our survival guide will prepare you with 10 pro tips and all the ins and outs of Outside Lands!
By Jennifer Fong, Jessica Li-Jo, Madeline Norling-Christensen, and Kristi Fujimoto
---
1. Pack Correctly
Now that you've got your tickets, what do you bring to Outside Lands? We would definitely recommend reusable water bottles that you can refill throughout the day, a blanket to sit on, a backpack to hold all your necessities, and cameras. All of these are a great starter pack to go to Outside Lands. Pack light and stay hydrated! To see the full list of do's and dont's of what to bring, check here.
2. Dress Smart
LAYER, LAYERS, LAYERS! For this 3 day music festival, you'll want to dress comfortably in layers. One minute it's sunny and the next, it's foggy. SF weather is unpredictable! Yes, we all want to look Coachella cute, but this isn't the time to forgo bringing a jacket. Also, keep it light because at the end of the day you'll regret lugging around a heavy jacket! Did we mention to dress in layers? It's that important.
Comfortable shoes are ALSO a must! Make sure your shoes can handle it all. With so many acts on 7 stages/places located throughout Golden Gate Park at different times, you'll be rushing to get to them all and standing a lot. So avoid sore feet with comfy shoes!
3. $$$
Every place you can pay with cash, you can pay with your card. But don't be that person who holds up the line! Cash is simpler without worrying about tips or needing reciepts.  All of the vendors at the festival will accept cards and cash, but that's not all! This is what's new. You can now use your wristband as payment! You heard that right- you can add funds to your account using the Outside Lands App! So take advantage of this foodie feast this weekend and indulge! In additions, for every $75 you add to your wristband, Outside Lands will give you $5.  But this offer is only available before the festival so go, go, go!
4. Nom Nom Nom
One of the best things about Outside Lands (besides the music) is the FOOD! Over 75 San Francisco restaurant partners and food trucks will be serving round' the clock to make sure your taste buds are satisfied! Oysters, tamales, tacos, crab rolls, frozen custard bars, falafels, veggie dumplings, chicken and waffles…there is something for everyone, even the pickiest of eaters. Don't miss out an incredible highlight of Outside Lands!
---
5. Go Mobile: Outside Lands 2016 App
If you're going to Outside Lands, download the app now! Seriously, you will thank us later. Over 200,000 people attend this festival, so getting separated from your friends is basically inevitable. Don't panic. With this app you can track your friends wherever they are! Also, this app has everyday's entire lineup, so you'll always know when and where your favorite artist is playing. You can add each each artist onto your own schedule and then share it with your #squad to keep everyone on the same page!
6. Your Lifeline, AKA Your Phone Battery
Were you really there if you didn't Snapchat, Instagram, Tweet, or FB about it? Obviously not… Like most of the big festivals, Outside Lands has charging stations to save you. But try not to waste time and miss a performance by bringing a portable charger! Close apps you aren't using, turn on low battery mode, and pray. Also, we're warning you now: signal there SUCKS. 200k people are on every social media site and the Outside Lands app so expect a lot of lag. That being said…Don't stay stuck to your phone. Take those important pics and then stop and experience the festival!  
---
7. Simply Getting There 
Getting to the city can be a hassle if not planned correctly.  First off, don't drive. Unless you're willing to walk the extra mile (milesss), leave your car at home. However, you could bike easily from your far parking spot or where ever you are! You can rent a bike from these suggested places and there is even a secure bike valet at the park! In addition, there is also a shuttle service for $48.00 from Bill Graham Civic Auditorium to the park! Also, you can try taking public transportation. Services like Bart, AC Transit, Muni, Golden Gate Transit, and CalTrain run all day every 15-30 minutes. But public transportation will be super packed. So if you want to avoid the crowds, you can always conveniently use Uber, Lyft or even Rideshare. For additional information regarding transportation options, see here!
8. Living Situation
No need to wake up extra early to beat the morning traffic to get here. If you're from out of town, think of Outside Lands as a vacation by staying at an SF hotel! So to help you out, Outside Lands 2016 has partnered up with certain hotels to give you great discounts! The hotels and their discounts are here: Hotel Zetta , Hotel Zeppelin , Hotel Abri , Joie De Vivre , Cavallo Point, and Stanford Court. In addition, all of these hotels are accessible through Muni. To learn more, click here.
Passion Pit fans rock out at Outside Lands in Golden Gate Park on Saturday Aug. 11, 2012 in San Francisco. (Photo by Alison Yin//Invision/AP)
---
9. Much More than Music
Take a break from music and check out what else Outside Lands has to offer. Take a minute (or 10) to enjoy everything that this one-of-a-kind festival has! From mini golf courses, to Wine Lands, Beer Lands, Eco Lands, magic, a Heinekin House, an arcade, and a the wide variety of shows other than music! Check out the Official Outside Lands 2016 Website for more info!
---
10. Last Minute Tips: bathrooms, lockers, and rest!
Bathrooms
Waiting in line for the bathrooms sucks, and unfortunately you will be doing A LOT of this at Outside Lands…Because the bathroom lines are at least 20-30 people long,  you'll be waiting around for 30+ mins.  So plan to go between sets and you won't miss a thing!
Lockers
Rest assured if you want to pack a bit more. There are lockers for rent at Outside Lands. Instead of having to go to Outside Lands ridiculously early to beat the crowd to get a locker, you can now reserve a locker online! But don't wait, they sell out fast – the large lockers are already all sold out!
Rest
Rally all day by taking rest stops throughout the festival! Bring a blanket or just plop on the grass, enjoy some food, and listen to some tunes. Be careful not to sit in the middle of major walkways, but this park allows for lots of space to lay out and enjoy the unique atmosphere!
---
What are you most excited for at Outside Lands 2016? Let us know in the comments below or on Facebook and on Twitter!
---
Are you ready for Outside Lands this weekend?! Whether it's your first or fourth time attending, there's lots to do and see! Navigating the festival is no walk in the park. ABCey has your local's guide to make sure your experience is stress free!
1. Know Your Lineup and Schedule
This year there is more than ever to do! Make sure you know the line up and schedule of events! You definitely don't want to miss something because you didn't do your research. Get the Outside Lands App to help with all your planning. You can build your own schedule  with all your personal picks and the app has everything in one place from food, event times and updates making it easy and convenient!
2. Ride your bike
There are a variety of ways to get to the festival. Drive, Uber, Muni or a 3-day shuttle pass! We suggest to bike for the best and easiest way to get there! You can valet your bike at the festival and if you park between 10am and 8pm they'll even hook you up with a free bike wash! Don't forget to bring your own lock!
3. Eat lots of Food
Alongside the amazing musical acts will be some equally amazing food! There will be a massive collection of local vendors, food trucks, restaurant partners and carts. Longtime favorites, Namu and Pacific Catch will there again, but you definitely don't want to miss out on some newbies including Sababa, The Monk's Kettle and Rocko's Ice Cream Tacos, and more! Set deep in the woods these are perfect spots to explore between sets!
4. Beer and Wine Lands
Since you can't bring in your own alcohol, The Wine and Beer Lands are your alcohol stops! Both are stacked with fantastic options. Beer Lands will feature amazing local brewers like Anchor and Sierra Nevada and incredible micro-brewers that you should definitely try as well! Overall,  there will be a staggering 32 breweries!
This year Wine Lands (37 winemakers, 120 +wines) has a new home in Lindley Meadow and will be going completely cashless! Your wristband is your festival ticket and your digital wallet at Wine Lands. Find out how to create your cashless account and get your 'Bison Bucks' here.
5. Be Awed by Some Art
There are many reasons why Outside Lands is a festival unlike any other, but a big one is the art! With outside art, from artists like Amanda Lynn and Jeben Berg, live painting by Sam Flores and Zio Ziegler +friends and Dr. Flotsam's Hell Brew Revue, you are sure to be stunned by some amazing masterpieces.
6.  Watch Master Chefs do Gastromagic
The festival's culinary entertainment is promising even more outlandish food stunts this year! Gastromagic is the celebration of culinary wonderment and the home for innovation around all things possible for food, drink, music magic and more. We can't wait for Morimoto Karaoke, where Iron Chef Morimoto will be rolling sushi while singing Karaoke! For the full Gastromagic schedule click here!
7. Participate in Other Activities
The Festival is jam packed with great music, food and comedy, but Outside Lands is also bringing you other can't miss activities like The House by Heiniken, Castland by Chromcast, Beer Camp by Sierra Nevada, Aloha Sculpture by Oluki and more! We are most excited for The Back Wine- Mini Golf Course! This new attraction will include a 3-hole mini golf course with each hole paired with a different wine tasting by Cannonball.
8. Experience the City with Night Shows
In case you can't get enough at the festival, there will be night shows around the city as well! We are can't wait for "The Notorious Wilco Brother" on August 6th. Few details have been released, but we know what every member of the indie rock band Wilco will be there. For a full list of performances, locations and to buy tickets click here!
Final reminders:
1. Phone charging: Don't worry about how to charge your phone, The Recharge Spot powered by Paypal has got you covered. They are stocked with a variety of phone chargers and you can even play a game for awesome prizes, get your face painted and more while you wait!
2. What to wear: Wear layers because one moment it can be warm and sunny, then winds gust and then next moment its foggy and cold. The weather changes quickly so be prepared! You can rent a locker to keep your things stored if you wish!
3. Cans/ Can'ts: Finally remember that you can't bring in any alcohol, chairs, professional still cameras or hard coolers. Blankets, empty camelbacks or other plastic containers and selfie sticks are a go. Here is a full list of can and can'ts.
Can't make it this year? Don't worry! This year Outside Lands will also be live streaming. We hope you have an amazing time at Outside Lands! Let us know what you're most excited for in the comments below or on Facebook and Twitter!
---
Relax, it's almost the weekend! To help get you through the next couple of days, ABCey presents you with the weekend lineup: the 5 FREE San Francisco events we are most excited about this weekend.
1. Polk Street Blues Festival | Saturday and Sunday, September 21-22 | 10 a.m – 6 p.m | Polk Street between Pacific and Union | As the only free blues festival in the city, the Polk Street Blues Festival is a celebration of music, food, and friends. Come out for live entertainment, gourmet food trucks, and art made by local artists. Let's help make this one of the best free blues festivals in the nation!
2. America's Cup Finals | Saturday, September 21st | 1:10 p.m. | Pier 27 and 29 | The long anticipated finals are FINALLY here! Watch America and New Zealand duke it out live in the final race this weekend. Make sure to get there early, because everyone is going to want a piece of the action and it will be crowded. We're rooting for ya, U.S.A.
3. Dance Party Flash Mob | Sunday, September 22nd | 2:30 p.m. | Powell Street, in from of WestField Mall | At ABCey we LOVE to dance, and therefore we are partial to anything that requires it! The dance is not choreographed, so just come in a costume of your choice and be ready to show off your moves.
4. Midnight Mystery Ride | Saturday, September 21st | Midnight | Mystery Location | Meet first at a local bar, and once the clock strikes midnight the ride begins! Destination: unknown. But we can guarantee that it will be awesome. Make sure to bring snacks and drinks to share once the final destination is reached. All levels of riders are welcome, and rain or shine, the ride must go on! Check out the Midnight Mystery Ride website the day of the event for destination information. 
5. Tour de Fat | Saturday, September 21st, | 11 a.m – 5 p. m | Lindley Meadow, Golden Gate Park | Bike mayhem, booze, food, and music. What could be better? The bike parade begins at 11, and the drinking and live entertainment at noon (it's 5 o'clock somewhere, right?)
Which events are you most excited for this weekend? Let us know in the comments, or on Facebook and Twitter! 
---
---