The Fourth of July is less than a week away, and that means major party planning! ABCey has made a list of the perfect patriotic DIYs for your party. Get ready to party all day long!
1. Popsicle Cocktails
Keep your guests cool all day long with these delicious and refreshing popsicle cocktails! For the kids, substitute the bubbly for Sprite to make a cute little mocktail.
2. Manicure
Don't forget to treat yourself a little! Replicate this fun little confetti nail art or make your own design!
3. Red, White, and Blue Cheesecake Bars
Add a little color to your desserts! These red, white, and blue cheesecake bars are a sweet treat that everyone would enjoy!
4. Bandana Picnic Quilt
Whether you're throwing a picnic party or planning to gaze at the fireworks, this DIY picnic quilt is perfect. You can use old bandanas or any other cloth you may have laying around.
5. Patriotic Suncatcher
These little DIY suncatchers are a cute addition to any decor you may have! You can make it into an activity for kids or use them to catch your guests' attention as well!
6. Firework Sunglasses
Add a spark to your outfit. Wow everyone with these DIY firework sunglasses! Spend the Fourth of July watching the fireworks through your own!
7. Confetti Party Poppers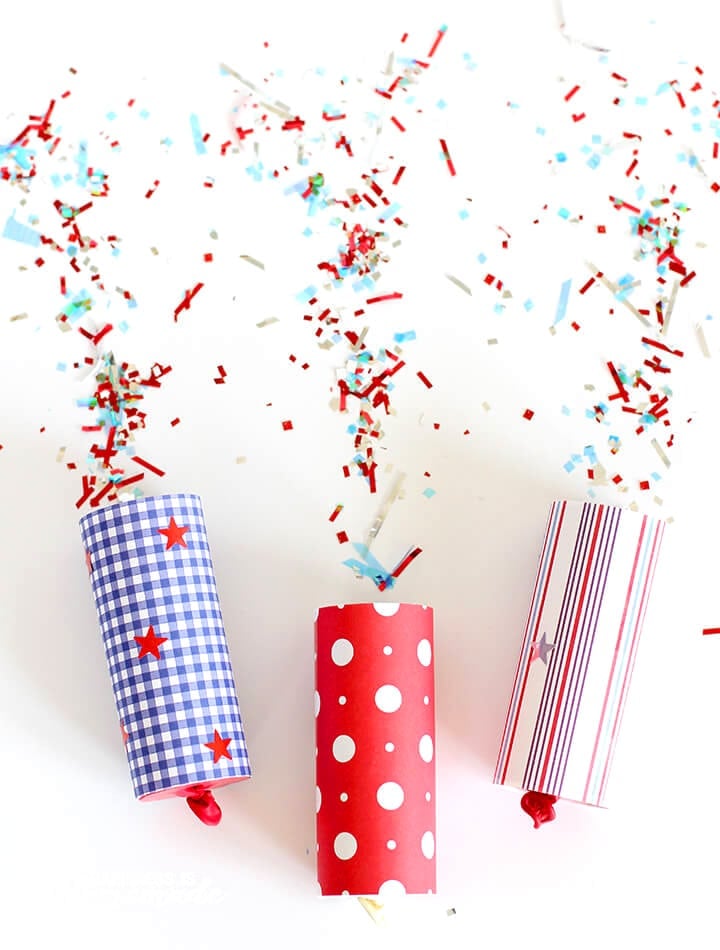 You can't celebrate the Fourth of July without some confetti! Make these easy DIY confetti party poppers to celebrate this patriotic holiday!
8. Star Spangled Shorts
This Fourth of July, you'll find the flag everywhere… even on yourself! Decorate your own shorts to sport our star-spangled banner!
9. DIY Chandelier
You definitely shouldn't be swinging from this chandelier, but it is something that your guests will absolutely adore!
10. Star Garland Backdrop
This star garland is multi-functional! If you're looking to create an amazing photo-op for your guests, hang a bunch side by side to make a starry background. There's also a traditional route you can opt for: hanging them for wall decor! Either way, it'll add a little twinkle to your party!
Will you use any of these simple and fun DIY decorations? Are there any that you made for the holidays? We'd love to hear from you! Let us know in the comments below or on Facebook and Twitter!
---
It's almost Friday! ABCey brings you this week's Weekend Lineup with the top events in the Bay Area for the upcoming weekend! After the long 4th of July weekend, here are some amazing events to keep the fun going!
Pro Beach Volleyball Tournament 
July 6-9th | All Day 9am-6pm | Cost: FREE! | AVP San Francisco Open | Piers 30-32 
Starting Thursday through Sunday, The Mens & Women's AVP Pro Beach Volleyball Tour will make its return to San Francisco. Sit back & relax & enjoy some exciting beach volleyball with the scenic Bay Bridge looming overhead. 
Friday Nights at the de Young
Friday July 7th | 5-8:30pm | Cost: FREE! | Golden Gate Park | 50 Hagiwara Tea Garden Drive
San Francisco, CA
Friday Nights at the de Young programs are after-hours art "happenings" that include a mix of live music, dance, theater performances & more! The café also offers a special Friday Night menu and specialty cocktails! 
French Fry Fest
Saturday July 8th | 11am-5pm | Cost: $5 General Admission, $35 All You Can Drink Craft Beer & Sangria, Ages 10 & Under – FREE!  | Soma StrEat Food Park | 428 11th Street San Francisco, CA 
SoMa StrEat Food Park and Broke Ass Stuart are teaming up to bring you the Bay's most delicious food trucks and pop-up shops. Come enjoy some fry specials to the sound of disco funk jams all day! 
Refreshments and Resistance: A Benefit for ACLU
Saturday June 8th | 11am-3pm | Cost: $30 | Spark Social SF | 601 Mission Bay Boulevard North | San Francisco, CA
ACLU is a group of professional women who have been awakened to their capacity to effectively drive positive, progressive change in our country. Proceeds will be donated to the ACLU, which works to protect and expand Americans' freedom to vote. Your donation includes bottomless sangria, mimosas, or a non-alcoholic refreshment of your choice! 
Sunset Silent Disco Yoga
Sunday July 9th | 6:15-7:30pm | Baker Beach | San Francisco CA 
Yoga at the golden hour with curated music, the incredible SF community, and outdoor yoga teacher and founder Julie Aiello.  Come enjoy this picturesque, peaceful, and fun environment for some relaxing yoga. They even supply headphones so you can listen to the teacher + to curated music together! 
_____________________________________________________________________
What events will you be attending this weekend? Let us know in the comments below or on our Facebook or Twitter page! 
Sources: SF Fun Cheap, EventBrite, De Young website, EventBrite, EventBrite
---