Every once in a while, everybody needs an escape from the confining quarters of their work – whether they work in an office or from home! A retreat is the perfect opportunity for companies to …. But what is there to do? ABCey has curated a list of our top 10 favorite corporate retreat activities fit for everyone!
It's a giant playground for adults! Located in Lands End, this obstacle course built with ropes, ladders, and cables is immersed in a mini forest located in our urban city. The ropes course will challenge you mentally and also get your blood rushing in ways an office may not. So go through the highs and lows (literally!) with your team, and it'll surely bring out your adventurous side.
"Learning through laughter." Nerd Improv strives to create workshops that are meant to help your team get the most out of your retreat. It was designed to help push the boundaries while making a safe environment for everyone to share. For any questions, you can contact them here.
Hosted by 1AM, this workshop is meant to bring out your creative side with street art! Groups are encouraged to create their own street art individually and in groups with stencils and much more. Alongside the art, their team goes through the history of street art that you surely won't forget! The best part? You won't forget your experience anytime soon with the art hanging on your wall!
Escape your office with an escape room! Reason provides your team with high tech team building activities and immersive experiences. Instead of your typical escape room, you can experience this through VR goggles to transport yourself into another reality and much more. In addition to an awesome escape, this retreat will build a stronger and better team!
Get up from your office chair and get on a boat! Your retreat will feature some of the most beautiful views and create some of the best memories. Your sailing experience will be personalized to whatever mood your team needs whether it be relaxing or thrilling! So pack your favorite sea sickness remedy and sail away!
Love food trucks? You'll love this challenge even more! The Food Truck Challenge prompts teams to experience what it's like to have your own and run your own food truck. Judges will base their decision on every aspect from the food to the marketing, so be prepared!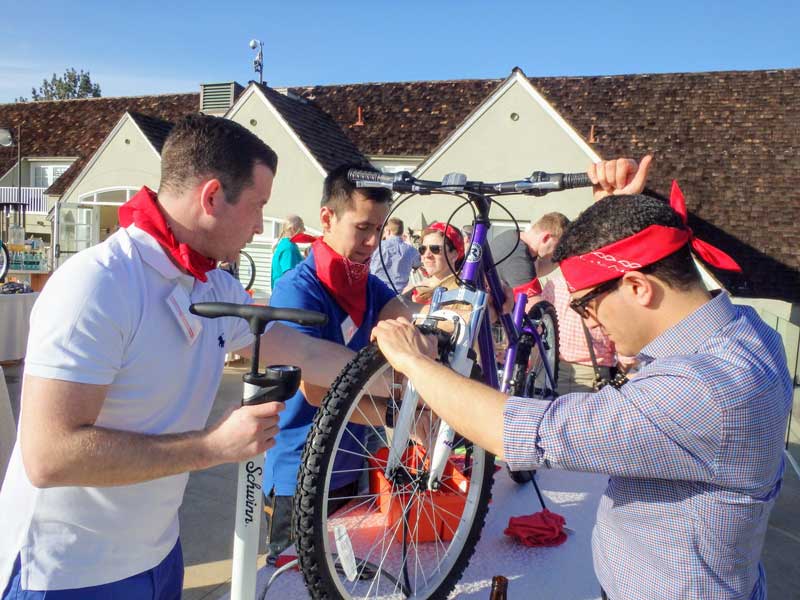 Drop the pens and papers and swap it out with wrenches and gears! This charity event challenges teams to build as many bikes as they can, and all the bikes built are donated to children around the world. It's an amazing cause and your team will build a competitive spirit together for a heartwarming cause as well.
This is great way to unwind after a long week of meetings. After splitting into teams, each group becomes their own winery (a dream come true)! After being briefed on the history of Sangria and competing in a trivia contest, teams have the opportunity to create their own unique blend, too.
Who doesn't love mini golf? Your team can make your own fun with challenging mini golf courses designed to trick the other team. If you're feeling charitable, there's also an option which involves cans of food to be donated as you complete the course. A little competition never hurt anyone, and hopefully you'll leave with a sense of accomplishment!
If you love food and you love San Francisco, we've got one of the most perfect retreat activities for you! This foodie adventure will prompt your teams to explore San Francisco while also trying some of the best foods around the city! You'll be leaving with a full belly and a new love for our hometown!
What are your favorite off-site activities?
These off-site corporate retreat activities can be adjusted to any retreat you have! Are you ready? Which ones did we miss? Let us know in the comments below or on Facebook or Twitter!
---
July is already upon us and it's almost the weekend! We hope you are just as excited as we are for Independence Day on Monday, and ABCey has you covered with all of your 4th of July events coming soon! Until then, make the most of your weekend and check out these fun Bay Area events!
---
Fri. July 1st – Mon. July 4th, 2016| 11am-11pm |prices vary| 4501 Pleasanton Ave. Pleasanton, CA
If you haven't gone to the fair yet, GO!  This fair is a must-see attraction for everyone!  For kids, there is a children's park, adventure park, petting zoo, ferris wheel, and carnival.  Adults can be entertained with horse races, a beer garden, a wine bar, shopping areas, and live concerts.  There are only 4 more days til' the fair is over, so come check it out before it's too late!

Sat July 2nd & Sun July 3rd, 2016 | 10am-6pm | FREE | Fillmore St.–Jackson to Eddy St, San Francisco
Enjoy two days of music, food, art, and fun at the Fillmore Jazz Festival!  This festival takes over more than 12 blocks and has every kind of food and craft imaginable.  With 32 years under its belt, this festival has become incredibly popular and the largest free jazz festival on the West Coast.  Join the other 100,000 people who attend this event and jazz up your weekend!
Sat. July 2nd, 2016 | 10am-12pm | FREE | Stow Lake, Golden Gate Park, San Francisco
Experience nature this weekend and take a guided tour through Golden Gate Park.  This guided tour is free and a perfect way to collect your thoughts while getting fit!  With your own personal tour guide, you can learn all about the park, plants, and wildlife.  So get out and enjoy the great outdoors with a nice stroll!
Sat. July 2nd, 2016 | 7:30pm | FREE, RSVP for Early Entry Tickets | AT&T Park; 24 Willie Mays Plaza, San Francisco
Mix things up this weekend by seeing a play…a free play!  This Saturday, the San Francisco Opera is hosting a live simulcast and projecting their current play, Carmen, on AT&T Park's huge video screen.  You will definitely be entertained by Carmen, a femme fatale play with jealousy, danger, love and murder.  Head out to the ball park to watch this captivating play and a special pre-show and intermission with the other 30,000 attendees!
Sun. July 3rd, 2016 | 11am-4pm | FREE | 103 Montgomery Street, Main Post, Presidio, San Francisco
This year, Off the Grid has revamped their picnic and food truck event held in Presidio Park. They now have over the 30 food and beverage trucks, free yoga classes, games, and music!  You can also get clothes and accessories at their mobile shop, produce from their market, and help planning your next activity in San Francisco.  There are also FREE shuttles, PresidiGo, that travel to Embarcadero BART, certain SF streets, MUNI, and around the park.  Don't miss the chance to relax on the grass field and enjoy great food and company!
Fri. July 1st, 2016 | 8:30pm – 10:00pm | FREE | McInnis Park: 310 Smith Ranch Road, San Rafael, CA
Because this weekend is so jam packed, we have one more event that will get you in the mood for July 4th! Friday at McInnis Park, park rangers will have yummy s'mores to eat right before you walk to the top of the Nike Site to watch the 9:30pm Marin County Fair fireworks show.  Fireworks are always fun especially with s'mores and tomorrow you can get both for free!
What are you planning on doing this weekend? Let us know in the comments below or on Facebook &  Twitter!
---
Startup Monday is ABCey's weekly post that features some of the best and brightest companies in the Bay Area. They are often companies that we have our eye on or have worked with in the past & would like to share with friends and followers of ABCey Events.
Some people get so involved with the hustle and bustle of San Francisco that oftentimes they forget about the beauty of this city. When you look past the busy streets, tall buildings and city noise, there's a whole other world waiting to be discovered. Anytime you're looking for a quick getaway, Transit & Trails can help get you there.
The Transit and Trails app lets you find nearby trails or parks you may not know about. What's wonderful about this app is that it helps you find, plan, and even share your adventures with others. Once you find a trail, you can then find public transportation or directions through the app. Also if planning a trip is too difficult, you can use an existing trail that has been saved on the website.
Nowadays, what's exciting about an adventure if you can't share it with others?After your trip, you may use the app to post on Facebook or Twitter. There's also a fast growing community of users on the Transit & Trails website. This allows users to share pictures and experiences with others about their recent adventure. If you want to learn more about how they work, check out the video below!
Which trails do you like to hike? Let us know in the comments below or on Facebook or Twitter!
---