Every once in a while, everybody needs an escape from the confining quarters of their work – whether they work in an office or from home! A retreat is the perfect opportunity for companies to …. But what is there to do? ABCey has curated a list of our top 10 favorite corporate retreat activities fit for everyone!
It's a giant playground for adults! Located in Lands End, this obstacle course built with ropes, ladders, and cables is immersed in a mini forest located in our urban city. The ropes course will challenge you mentally and also get your blood rushing in ways an office may not. So go through the highs and lows (literally!) with your team, and it'll surely bring out your adventurous side.
"Learning through laughter." Nerd Improv strives to create workshops that are meant to help your team get the most out of your retreat. It was designed to help push the boundaries while making a safe environment for everyone to share. For any questions, you can contact them here.
Hosted by 1AM, this workshop is meant to bring out your creative side with street art! Groups are encouraged to create their own street art individually and in groups with stencils and much more. Alongside the art, their team goes through the history of street art that you surely won't forget! The best part? You won't forget your experience anytime soon with the art hanging on your wall!
Escape your office with an escape room! Reason provides your team with high tech team building activities and immersive experiences. Instead of your typical escape room, you can experience this through VR goggles to transport yourself into another reality and much more. In addition to an awesome escape, this retreat will build a stronger and better team!
Get up from your office chair and get on a boat! Your retreat will feature some of the most beautiful views and create some of the best memories. Your sailing experience will be personalized to whatever mood your team needs whether it be relaxing or thrilling! So pack your favorite sea sickness remedy and sail away!
Love food trucks? You'll love this challenge even more! The Food Truck Challenge prompts teams to experience what it's like to have your own and run your own food truck. Judges will base their decision on every aspect from the food to the marketing, so be prepared!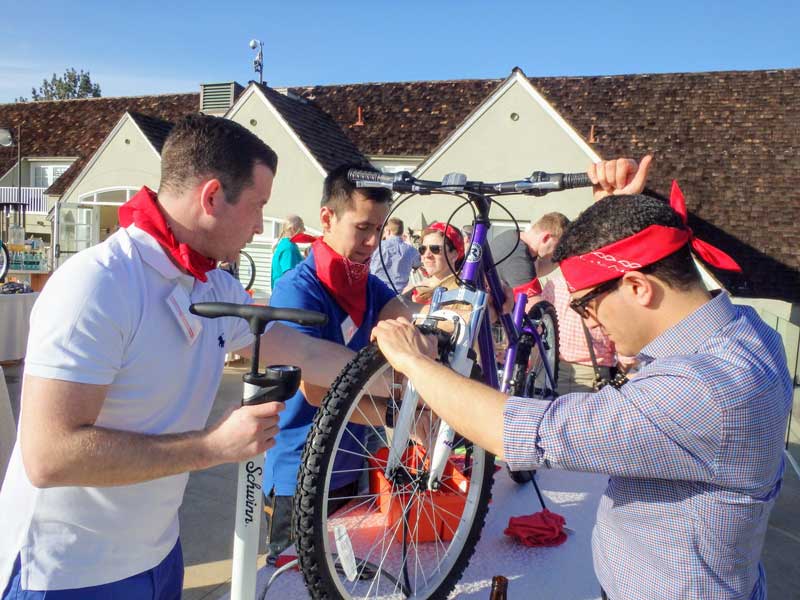 Drop the pens and papers and swap it out with wrenches and gears! This charity event challenges teams to build as many bikes as they can, and all the bikes built are donated to children around the world. It's an amazing cause and your team will build a competitive spirit together for a heartwarming cause as well.
This is great way to unwind after a long week of meetings. After splitting into teams, each group becomes their own winery (a dream come true)! After being briefed on the history of Sangria and competing in a trivia contest, teams have the opportunity to create their own unique blend, too.
Who doesn't love mini golf? Your team can make your own fun with challenging mini golf courses designed to trick the other team. If you're feeling charitable, there's also an option which involves cans of food to be donated as you complete the course. A little competition never hurt anyone, and hopefully you'll leave with a sense of accomplishment!
If you love food and you love San Francisco, we've got one of the most perfect retreat activities for you! This foodie adventure will prompt your teams to explore San Francisco while also trying some of the best foods around the city! You'll be leaving with a full belly and a new love for our hometown!
What are your favorite off-site activities?
These off-site corporate retreat activities can be adjusted to any retreat you have! Are you ready? Which ones did we miss? Let us know in the comments below or on Facebook or Twitter!
---
It's almost Friday! ABCey brings you this week's Weekend Lineup with the top events in the Bay Area for the upcoming weekend! There is everything from kite festivals and yoga fests to picnics and music in the park! 
---
Weekend Lineup: Berkeley Kite Festival
July 29th-30th | 10am-6pm | Free Admission, Parking $15| Berkeley Marina, University Ave and Marina Blvd
Who said kites were only for kids?! Come fly your kite at the 32nd Annual Berkeley Kite Festival and West Coast Kite Championships. The event will also include music, food and hands-on activities for everyone to enjoy!
Yoga Fest
Saturday, July 29th | 10am-5pm | Free Admission | Sports Basement Berkeley, 2727 Milvia St, Berkeley, CA
The Yoga Fest in Berkeley is finally here! Join this event with your fellow yogis as there are 5 different classes to choose from. If you come join the relaxation and fun, you will have the opportunity to get 20% off at the Sports Basement store!
Music in the Park
Saturday, July 29th | 12pm-8pm| Free Admission | Mission Dolores Park, San Francisco, CA
Come party at Dolores Park while listening to live music from local musicians! Sit back, relax and have fun with your friends and family under the sun in the beautiful park of San Francisco!
Presidio Picnic
Sunday, July 30th | 11am-4pm | Free Admission| Main Post Lawn, 103 Montgomery St, San Francisco, CA
Who doesn't love food trucks?! Off The Grid at The Presidio is back for families to enjoy good food and fun activities! Even though there will be tasty food, there will also be free activities such as yoga classes, games and a photo booth!
---
What events will you be attending this weekend? Let us know in the comments below or on Facebook or Twitter! 
---
It's almost Friday! ABCey brings you this week's Weekend Lineup with the top events in the Bay Area for the upcoming weekend! There is everything from craft fairs and trunk shows to pop ups and block parties! 
---
Weekend Lineup: Renegade Craft Fair
July 15th-16th | 11am-6pm | Free Admission | Fort Mason Center Pavilion, 2 Marina Blvd, San Francisco, CA 94123
If you love arts and crafts, then this is the place to be this weekend! Over 300 craft makers and designers will be in attendance to show their creativity for this one-of- a kind shopping experience! These vendors will include modern handmade merchandise such as jewelry and accessories, art, fashion, ceramics, candles, illustration, stationery, home decor, cookware, apothecary, and much more!
Burning Man "Beyond the Fence Trunk Show & DJ Party"
Saturday, July 15th | 12pm-6pm | Free Admission | The Great Northern, 119 Utah St., San Francisco, CA
Who's getting excited for Burning Man?! Shop while you dance to DJs at this years trunk show as you prepare for the desert. Over 30 designers will be selling merchandise perfect for the desert that will make your Burning Man experience one to remember!
SF Etsy Pop Up
Saturday, July 15th | 11am- 5pm | Free Admission | Ghirardelli Square, 900 North Point Street, San Francisco, CA
Etsy is popping up in San Francisco! Come shop from the SF Etsy team or take a crafting class at the heart of the Ghirardelli Square! If you're planning to stop by for the crafting class, you must RSVP! 
Menlo Summerfest
July 15th & 16th | 10am-6pm | Free Admission | Santa Cruz Avenue, Menlo Park, California
Summer is here and that means it's outdoor festival season! This two day event includes live music, art, delicious food and beverages, home and garden exhibits and a lot of fun activities for kids!
Summer of Love Dance Party
Saturday, July 15th| 7pm-10pm | Free Admission | 50 Moraga Ave, The Presidio, San Francisco, CA
Get your groove on and celebrate the Summer of Love's 50th anniversary! This dance party will play your favorite tunes from the 60s as you get to cruise back in time! There will also be face painting, henna tattoos, classic photo booths and much more!
---
What events will you be attending this weekend? Let us know in the comments below or on our Facebook or Twitter page!
---
It's almost Friday! ABCey brings you this week's Weekend Lineup with the top events in the Bay Area for the upcoming weekend! We've got everything from a  circus-themed dinner, to wine and beer tastings, and even hot air balloons! 
Thursday June 8th | 5-9pm |  Free Admission, $30 All You Can Drink Craft Beer | Spark Social SF, 601 Mission Bay Boulevard, North San Francisco, CA
Kick-off your carefree summer with exceptional beer and fresh air for an all-you-can-drink tasting adventure in the city! Featuring drinks from Fieldwork Brewing Company, New Bohemia Brewing Company, Drake's Brewing Company, and more! 
Starting Friday, June 9-17th | 7:30pm-Midnight | Cost: $50-$130 |  Ages 21+ | Tortona Big Top 2001 Ferry Point Alameda, CA  
From the co-creators of The Edwardian Ball, New Bohemia NYE, Phantasm SF, Lagunitas Beer Circus is the nightlife event of a lifetime. A circus-themed, dinner and theater experience that you will surely not forget! A wonderful night out that explores San Francisco's scandalous history and with a world-renowned performance.  
Weekend Lineup's Wine Down Fridays 
Friday June 9th | 5-8pm | Cost: FREE entry! | Urbano Cellars, 2323 B Fourth St. Berkeley, CA 94710
Friday's call for wine & food trucks! Get the weekend started with some delicious wine, food trucks, live music & art! A perfect start to your Friday night.
Sonoma County Hot Air Balloon Classic 2017
Saturday June 10th & Sunday June 11th  | 4am-10:30am  | Kids $5, Adults $20, Children 2 & under FREE | Keiser Park | 700 Windsor River Road, Windsor, CA
An early (but worth it!)  Weekend Lineup wake-up call to enjoy the beautiful hot air balloons in wine country. Right as the sun rises, these balloons will be launched from an open field into the sky. What a great way to start your morning! 
Spring Into Summer Parade & Fair
Saturday June 10th | 10am | Cost: FREE! | San Mateo County Event Center | 1346 Saratoga Drive, San Mateo, CA
Come enjoy the floats, bands & activities at the perfect event to kick-off summer! The parade will begin at Franklin Parkway, then continues along Delaware Street, and ends at the Fair. A perfect family activity for a fun Weekend Lineup Saturday afternoon! 
 _____________________________________
Will you be attending any of these Weekend Lineup Bay Area/SF events? What other SF events are you excited about? Let us know in the comments below or on Facebook and  Twitter!
---
It's Thursday, and you know what that means…ABCey Events has the Weekend Lineup with a list of the top 5 Bay Area Weekend events! We have everything from a 10 Hour Dance Event and Rum Festival to a Rooftop Party and of course the start of Burning Man. Don't miss out on these fun events going on Friday til' Sunday!
---
---
Top 5 Bay Area Weekend Events
Fri 8/26/16 and Sat 8/27/16| 5pm – 3am | 21+, no ins & outs| $20 tickets here, cash only at event | SF Mint
Celebrate the end of the work week this Friday! Get the party started with 10 hours of fun, food, drinks, and dance! First, walk into a projection-mapped courtyard and enjoy happy hour drinks from 5pm-10pm! Then, head down to the SF Mint building basement and dance til the wee hours of the morning! With world class DJs, amazing food from The Midway's own Madame Zola's Fortune Cafe, and top of the line art performances, you'll be entertained all night long! Get to this "once in a lifetime" event! 
Fri 8/26/16 to Sat 8/27/16| Fri 2pm – Sat 6pm | 21+ | $5-$130, Buy tickets here | SOMA Cultural Center
Like rum? Then get to this Bay Area Weekend Event? This festival will give you a chance to taste new rums, discover new brands, attend rum seminars and enjoy great music! You'll also learn history behind rum and how to differentiate the different grades of rum. But hurry, tickets are only on sale for a limited time! 
---
Sat 8/27/16| 4pm-7pm | $25, Buy tickets here | 620 Jones, SF
Meet and mingle with some of the best and brightest professionals and alumni! Don't skip this popular event to network and connect with other business individuals! There will be plenty of cocktails, and if you're hungry, there's a great restaurant downstairs! Also, make sure you stick with the dress code and wear white to celebrate the summer with a fabulous view! 
Sat 8/27/16 and Sun 8/28/16| 11am – 5pm | FREE | Ghirardelli Square
Love Etsy as much as we do? Then get to Ghirardelli Square this Sunday to check out over 60 local Etsy artisans. While you shop, grab some of the world famous chocolate and ice cream. If that wasn't enough, you can hop over to the Lagunitas Beer Garden! There you can sip on some great beer, enjoy great views of the Bay Area, fulfill your sweet tooth, and shop til' you drop! What more could you ask for?
Sun 8/28/16 til Mon 9/5/16| 10am – 12pm | $390+ tickets here  | Black Rock Desert, NV
Join over 70k people in one of the most hyped and talked about radical events of the year! Explore with others a magical and unique experience full of music, art, and wonder. Explore the theme camp's various bars, dj's, workshops,  and open mics, or try some flaming Skee-ball, check out the Hall of Mirrors, or the DIY movie theater! Stop by Center Camp for performances and galleries, the French Quarters Camp for elegant cocktails, sweets, and custom soaps, the Thunderdome for sword fighting, or the Firehouse Camp to paint. And, be sure to hop on an art car!
---
Will you be attending any of these Bay Area Weekend Events? Let us know below or on Facebook and Twitter!
---
Are you ready for Outside Lands this weekend?! Whether it's your first or fourth time attending, there's lots to do and see! Navigating the festival is no walk in the park. ABCey has your local's guide to make sure your experience is stress free!
1. Know Your Lineup and Schedule
This year there is more than ever to do! Make sure you know the line up and schedule of events! You definitely don't want to miss something because you didn't do your research. Get the Outside Lands App to help with all your planning. You can build your own schedule  with all your personal picks and the app has everything in one place from food, event times and updates making it easy and convenient!
2. Ride your bike
There are a variety of ways to get to the festival. Drive, Uber, Muni or a 3-day shuttle pass! We suggest to bike for the best and easiest way to get there! You can valet your bike at the festival and if you park between 10am and 8pm they'll even hook you up with a free bike wash! Don't forget to bring your own lock!
3. Eat lots of Food
Alongside the amazing musical acts will be some equally amazing food! There will be a massive collection of local vendors, food trucks, restaurant partners and carts. Longtime favorites, Namu and Pacific Catch will there again, but you definitely don't want to miss out on some newbies including Sababa, The Monk's Kettle and Rocko's Ice Cream Tacos, and more! Set deep in the woods these are perfect spots to explore between sets!
4. Beer and Wine Lands
Since you can't bring in your own alcohol, The Wine and Beer Lands are your alcohol stops! Both are stacked with fantastic options. Beer Lands will feature amazing local brewers like Anchor and Sierra Nevada and incredible micro-brewers that you should definitely try as well! Overall,  there will be a staggering 32 breweries!
This year Wine Lands (37 winemakers, 120 +wines) has a new home in Lindley Meadow and will be going completely cashless! Your wristband is your festival ticket and your digital wallet at Wine Lands. Find out how to create your cashless account and get your 'Bison Bucks' here.
5. Be Awed by Some Art
There are many reasons why Outside Lands is a festival unlike any other, but a big one is the art! With outside art, from artists like Amanda Lynn and Jeben Berg, live painting by Sam Flores and Zio Ziegler +friends and Dr. Flotsam's Hell Brew Revue, you are sure to be stunned by some amazing masterpieces.
6.  Watch Master Chefs do Gastromagic
The festival's culinary entertainment is promising even more outlandish food stunts this year! Gastromagic is the celebration of culinary wonderment and the home for innovation around all things possible for food, drink, music magic and more. We can't wait for Morimoto Karaoke, where Iron Chef Morimoto will be rolling sushi while singing Karaoke! For the full Gastromagic schedule click here!
7. Participate in Other Activities
The Festival is jam packed with great music, food and comedy, but Outside Lands is also bringing you other can't miss activities like The House by Heiniken, Castland by Chromcast, Beer Camp by Sierra Nevada, Aloha Sculpture by Oluki and more! We are most excited for The Back Wine- Mini Golf Course! This new attraction will include a 3-hole mini golf course with each hole paired with a different wine tasting by Cannonball.
8. Experience the City with Night Shows
In case you can't get enough at the festival, there will be night shows around the city as well! We are can't wait for "The Notorious Wilco Brother" on August 6th. Few details have been released, but we know what every member of the indie rock band Wilco will be there. For a full list of performances, locations and to buy tickets click here!
Final reminders:
1. Phone charging: Don't worry about how to charge your phone, The Recharge Spot powered by Paypal has got you covered. They are stocked with a variety of phone chargers and you can even play a game for awesome prizes, get your face painted and more while you wait!
2. What to wear: Wear layers because one moment it can be warm and sunny, then winds gust and then next moment its foggy and cold. The weather changes quickly so be prepared! You can rent a locker to keep your things stored if you wish!
3. Cans/ Can'ts: Finally remember that you can't bring in any alcohol, chairs, professional still cameras or hard coolers. Blankets, empty camelbacks or other plastic containers and selfie sticks are a go. Here is a full list of can and can'ts.
Can't make it this year? Don't worry! This year Outside Lands will also be live streaming. We hope you have an amazing time at Outside Lands! Let us know what you're most excited for in the comments below or on Facebook and Twitter!
---
Having trouble getting your employees on the same page? Need to build a stronger, more connected corporate team? ABCey Events has compiled a list of team building activities around the Bay Area sure to get your team interacting in fun, new ways!
1. Mr. Treasure Hunt
Get your team out of the office and on an urban adventure! Mr. Treasure Hunt is a scavenger hunt that emphasizes problem-solving and team work. Bring out the competitive spirit of your employees with clues, puzzles, and races throughout the city! Locations include Peninsula and South Bay, SF Neighborhoods and Museums, Marin, North Bay, Wine Country, and East Bay.

2. Urban Putt
If you're looking for a unique experience to share with your employees, then Urban Putt is the place for you to host your next team building event. SF has brought a new concept to miniature golf– playing indoors! Choose from 14 obscure mini-golf courses and let the games begin. Pick teams or play one on one. Either way it is sure to be a great time with fun and food!

3. Paint Night
Take part in a relaxing night over drinks and paint! Paint Night is a great opportunity to bond with fellow co-workers and friends. No painting experience needed! A performing artist will guide a lesson where your group is free to let out their inner Picasso, all while sipping a cocktail or two. Locations are spread throughout the Bay Area at your favorite local bistros. Click here to find your closest Paint Night!

4. Food Truck Challenge
The Food Truck Challenge is a hands on activity sure to get your team's creative juices flowing! Hosted by TeamBonding.com, The Food Truck Challenge is a culinary competition where individuals are divided into groups and encouraged to create their very own fast-food truck. Market, promote, and allow your ideas to come to life! At the end of the day, share and enjoy the gourmet foods you've created!

Get your corporate team to break out of their shell! Nerd Improv is a great way to foster interaction and good communication skills with your employees! Through building exercises and improv, your team can learn better work ethic and build open relationships. Inquires can be made here for your next event.

Hosted by San Francisco State University's Pacific Leadership Institute flagship program, the Fort Miley Adventure Challenge is a challenge obstacle course consisting of cables, ladders, and ropes within the woods of Golden Gate Recreational Area at Lands End. Fight through physical, emotional, and mental challenges together to build a stronger team! The event takes place every first Sunday afternoon of the month.

7. The Go-Game
Too busy to plan an extravagant team building event? The Go-Game simplifies the fun! Choose from indoor, outdoor, or training games that enable competition and growth for you and your team! The accessible app makes team building easy and convenient. With the help of The Go-Game team, you're sure to come out a more improved team– in and out of the office.

8. House of Air
Take flight at your next corporate event! House of Air is a trampoline house offering team building facilities for all ages and skill levels. Activities include games, planned activities for your party, food, and dodge ball. Experience the art of bouncing with your team! Located in the Presidio of San Francisco.
9. Mystery by Design
Do you know the people you work with? Mystery by Design is a great way to break the ice all while solving a mystery! With more than 20 plot lines and twists catered to your event, you're sure to be a stronger group by the end of the game. Get into character and let your imagination take over. To have the "crime of your life!" click here.

10. Laser Quest
Laser Quest laser tag is another fun way to bring out competition and fun with your employees. Run through lighted multi-leveled mazes, dodge laser bullets, and strategize the best ways to conquer the quest! Located in Mountain View. Book your next quest here.

Team building is the foundation of a more connected and successful business. What are your favorite team building activities? Let us know with a comment or message us on Facebook or Twitter!
---
As the fall is quickly approaching, the girls at ABCey Events are looking forward to the many tech conferences coming to San Francisco! In preparation of the influx of travelers, we  curated a list for the best new apps to make business travel easier. This list has you covered, from clothing lists to activity locators, so you can spend time on work and fun instead of a travel mishap!
1. Packing Pro App | $2.99 iTunes Store | This app is the best packing app on the market right now! The user is able to list out all your upcoming trips and customize needed items in lists within each trip. If you are stuck on what to bring on your business trip, Packing Pro has plenty of sample lists and has a huge catalog of items to place on your packing to-do list!
2. Gate Guru | Free on iTunes & Google Play | Gate Guru will save you plenty of time and worry when at the airport next! The home screen keeps track of all of your current and future flights inputed and will give you food options and airport lounges nearest to you. The JourneyCard screen also keeps you updated with any delays, security wait times, gate changes, and more.  We highly encourage you to check this out this app to keep your airport trip as stress-free as possible!
3. Gogobot | Free on iTunes & Google Play | After a long day at a tech conference, Gogobot will lead you and friends to the greatest finds San Francisco and other cities have to offer! The app starts by having the user enter in the types of activities they typically participate in on vacation. Then it uses "tribes" which are groups of people with similar interests on the app to find places you may be interested in checking out. It also has a great locator on the app to find delicious restaurants in your same vicinity! 
4. AwayFind | Free on all email platforms | The last thing you want to worry about while away at a tech conference is unnecessary and unwanted emails bombarding you the entire day! AwayFind is here to the rescue! The program allows the user to set up in advance which emails are important and should be set to an extra alert. This way, while sitting in a meeting you are only bothered if a specific message is important and alerts you via call, text, or notification. We can't wait to give this a try in the future with our email platform! 
5. Expensify | All Platforms | While traveling for work, it can sometimes become frustrating to save every receipt. Expensify simplifies this process when it allows you to take a photo of your receipt and it automatically enters the information into your online expense report. While on your mobile phone, it further allows the user to create and submit expense reports. The app also has great tools including flight updates, offline mode for airplanes, automatic mileage counting, and can log & bill hours. Simply put, this app has it all for everything you may need on a tech conference trip! 
Which apps will you be using at your next tech conference this fall?! Let us know in the comments below or on Facebook and Twitter! 
---