The Fourth of July is less than a week away, and that means major party planning! ABCey has made a list of the perfect patriotic DIYs for your party. Get ready to party all day long!
1. Popsicle Cocktails
Keep your guests cool all day long with these delicious and refreshing popsicle cocktails! For the kids, substitute the bubbly for Sprite to make a cute little mocktail.
2. Manicure
Don't forget to treat yourself a little! Replicate this fun little confetti nail art or make your own design!
3. Red, White, and Blue Cheesecake Bars
Add a little color to your desserts! These red, white, and blue cheesecake bars are a sweet treat that everyone would enjoy!
4. Bandana Picnic Quilt
Whether you're throwing a picnic party or planning to gaze at the fireworks, this DIY picnic quilt is perfect. You can use old bandanas or any other cloth you may have laying around.
5. Patriotic Suncatcher
These little DIY suncatchers are a cute addition to any decor you may have! You can make it into an activity for kids or use them to catch your guests' attention as well!
6. Firework Sunglasses
Add a spark to your outfit. Wow everyone with these DIY firework sunglasses! Spend the Fourth of July watching the fireworks through your own!
7. Confetti Party Poppers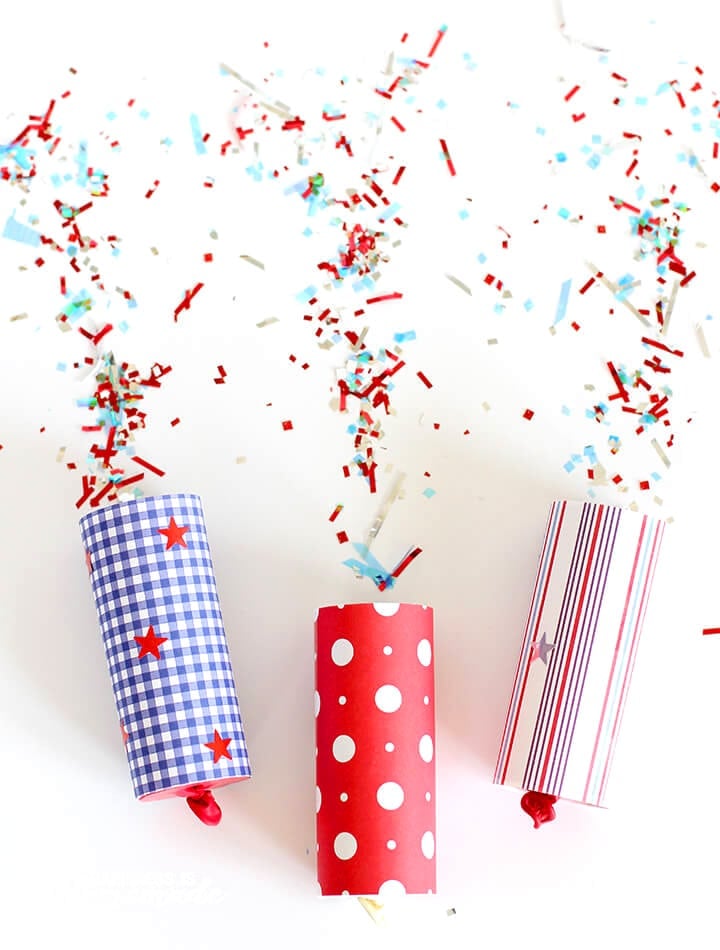 You can't celebrate the Fourth of July without some confetti! Make these easy DIY confetti party poppers to celebrate this patriotic holiday!
8. Star Spangled Shorts
This Fourth of July, you'll find the flag everywhere… even on yourself! Decorate your own shorts to sport our star-spangled banner!
9. DIY Chandelier
You definitely shouldn't be swinging from this chandelier, but it is something that your guests will absolutely adore!
10. Star Garland Backdrop
This star garland is multi-functional! If you're looking to create an amazing photo-op for your guests, hang a bunch side by side to make a starry background. There's also a traditional route you can opt for: hanging them for wall decor! Either way, it'll add a little twinkle to your party!
Will you use any of these simple and fun DIY decorations? Are there any that you made for the holidays? We'd love to hear from you! Let us know in the comments below or on Facebook and Twitter!
---
Fourth of July is just around the corner! Save yourself the struggle of planning a party and join in on all the Bay Area fun. From fireworks to parades, ABCey Events has put together a list of events sure to get your weekend line-up going! What do you have planned?
1. 4th of July Spectacular! (Mountain View, CA)
Saturday, July 4, 2015| 8pm | Shoreline Amphitheater| starting at $38 
The San Francisco Symphony is hosting its 29th annual 4th of July Spectacular event at the Shoreline Amphitheater. The orchestra will perform The Sound of Music as a tribute to the anniversary. Tickets are now available. Event starts at 8:00pm with fireworks scheduled to take the sky by 9:30pm!
2. Coca-Cola July 4th Fest 2015 (Vallejo, CA)
Friday, July 3, 2015- Sunday, July 6, 2015 |10:30 am- 10pm | Vallejo, CA| $64.99
Looking to spend your 4th of July weekend doing more than watching fireworks? Six Flags is hosting its annual Coca-Cola July 4th Fest! In celebration of Independence Day, fan favorite rides are set to open an hour early, so everyone has more time for weekend fun! At the end of each night, enjoy a fireworks show! Tickets and season passes are now available.
3. Fremont 4th of July Parade (Fremont, CA)
Saturday, July 4, 2015 | 10am PM | Fremont, CA | Free
The city of Fremont is hosting a 4th of July Parade in the Warm Springs District! Expect to see lots of beautiful floats, musical units, and guest celebrities. Parade is set to start at 10:00am with festivities to follow!
4. Alameda County Fair (
Pleasanton

, CA)

Saturday, July 4, 2015 | 11am |Pleasanton, CA | $17 

Rock the red, white and blue at the final weekend of the Alameda County Fair. Spend the day participating in fun carnival activities and stay until the sun goes down for the 4th of July Fireworks Speculator. They are promising to deliver non-stop, dazzling fireworks set to music preformed by the Oakland East Bay Symphony. Fireworks will begin approximately around 9:30. Don't miss out on fun for the whole family. Purchases tickets here.
5. The Fillmore Jazz Festival (San Francisco, CA)
Saturday, July 4, 2015- Sunday, July 5, 2015| 10am-6PM | San Francisco, CA | Free
The annual Fillmore Jazz Festival will be held this Saturday and Sunday from 10:00am to 6:00pm on Fillmore Street between Jackson and Eddy Street. Jazz music, culture, and cuisine will be provided. Bring your family or grab some friends. It's an event you don't want to miss!
Which event will you be attending this Fourth of July weekend? Let us know in the comments or message us on Facebook or Twitter!
---